President of the CSSL
Professor Nandadeva Samarasekera
It is my honour and privilege to serve as the 41st President of the College of Surgeons of Sri Lanka having been part of this College for 21 years as a member, Assistant Treasurer, Secretary, Vice President and President-Elect.
Thanks to the generosity of Dr Noel and Mrs Nora Bartholomeusz, the College has moved from humble beginnings in a small room at Wijerama House to the present magnificent building that combines both the vintage and the modern. In the year 2000, the then President Prof A H Sheriffdeen along with Mrs Anne Ranasinghe and the late Dr Vimala Navaratnam were instrumental in facilitating this process, and I was fortunate as the secretary that year, to be one of the signatories to this transfer with the Professor A H Sheriffdeen.
As an academic and a postgraduate trainer, the theme "Training the Future Surgeon" is close to my heart. The rapid evolution of medical technology poses both opportunities and challenges to surgeons and trainees. The College needs to gear its membership to this reality and foster ties with our regional and international partners including the SAARC Surgical Care Society, professional colleges in South-East Asia, Australia and the Royal Colleges of the UK towards this objective.
The seeds of a surgical career are often laid down in the company of inspirational surgeons. I call our membership to be these role models to motivate our best and brightest medical students and young doctors to be participants of this vision for the future.
International Faculty
Mr Stephen W Fenwick
Dr Shyam Varadarajulu
Dr Raja Shanmugakirshnan
Professor David Gyorki
Professor Mike Griffin
Professor Christopher R Chapple
Dr Venkatesh Munikrishnan
Dr Roy Patankar
Professor Narasimhaiah Srinivasaiah
Dr Judy Evans
Dr Udayangani Samarakkody
Professor David Richens
Professor Jacqueline Taylor
Professor Abhay Rane
Professor Rowan Parks
Mr Phil Tozer
Professor David G Armstrong
Professor Surendra Kumar Mantoo
Dr Siddesh G
Professor Abdul Majeed Chaudhry
Professor Sunil Kumar Dhakal
Dr Jim Khan
Professor Rajeev Parameswaran
Professor Amit Agarwal
Dr P Jagannath
Professor Krishnakumar Madhavan
Mr Hassan Malik
Mr Mike McKirdy
Dr Narasimhia Sirinivasan
Dr Sharmila Dissanaike
Dr Padmini Hewavitharana
National Faculty
Dr Ajith De Silva
Dr P Parthiepan
Professor Ranil Fernando
Dr Shivantha Fernandopulle
Dr Dammika Dissanayake
Dr Suranga Manilgama
Professor Aloka Pathirana
Dr Minoli Joseph
Dr Sharmila Dissanaike
Dr T G Amal Priyantha
Dr Nissanka Jayawardhana
Dr Duminda Ariyaratne
Dr Niluka T Amarasinghe
Dr Buddhima Jayawickrama
Dr Joel Arudchelvam
Dr Amanthana Marasinghe
Dr Padmini Hewavitharana
Dr Arosha Dissanayake
Dr Buddhika Dassanayake
Dr Malik De Soysa
Dr Kanishka De Silva
Dr Surath Munasingha
Dr Jagath Kumara Rathugamage
Dr Kithsiri Senanayake
Dr P Jagannath
Professor Krishnakumar Madhavan
Dr Nilesh Fernandopulle
Michael Silva
Narasimhia Sirinivasan
Free paper sessions
Orations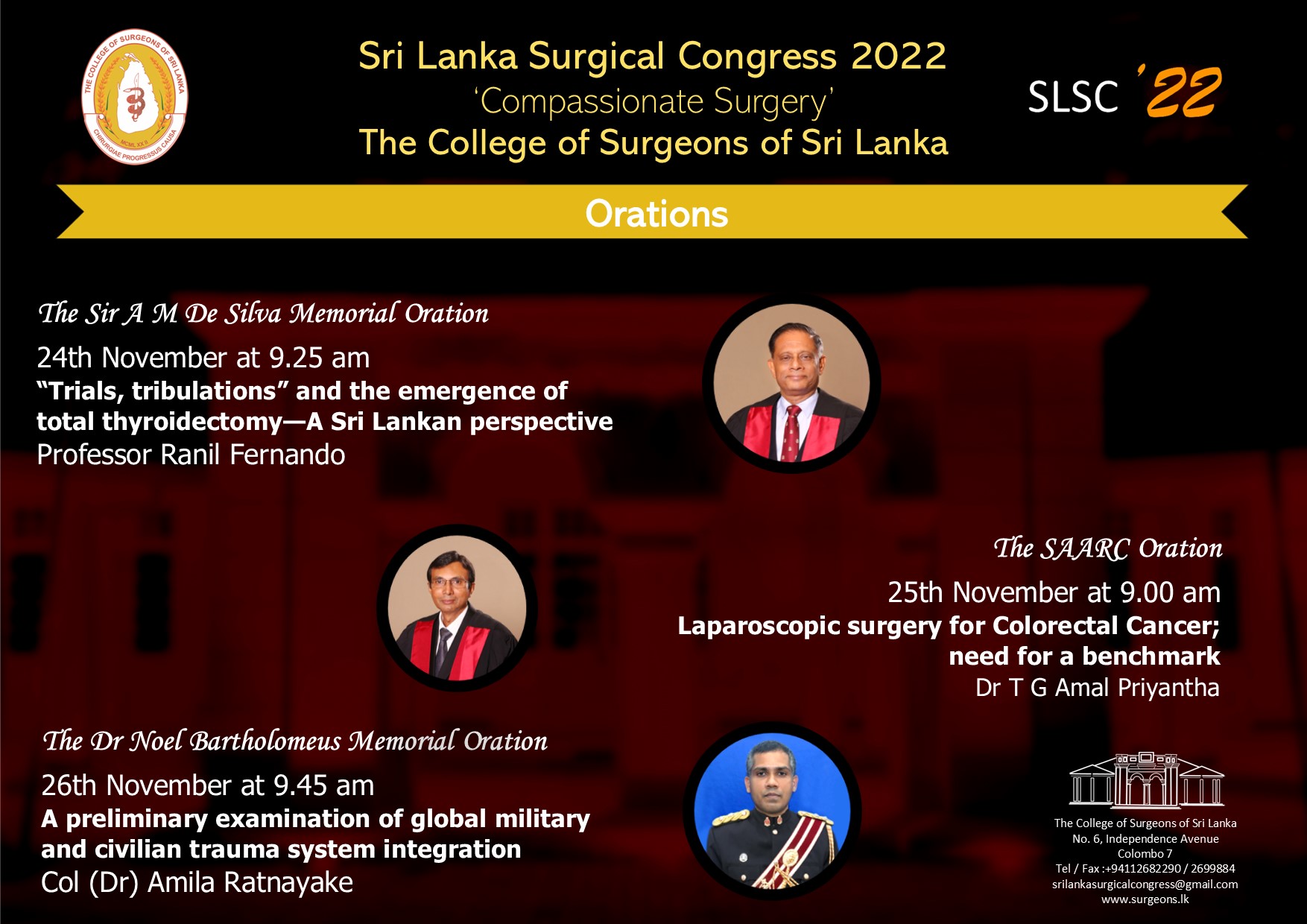 Abstract submission portal